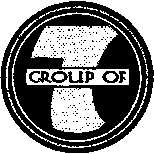 The Group of Seven was a group of Canadian painters set out to create Canadian art style instead of the European style Canadian artists used. The Group was formed in Toronto in 1920. The members of the Group were: Lawren Harris, A.Y. Jackson, Arthur Lismer, Frank Johnston, J.E.H Macdonald, F.H. Varley and Franklin Carmichael.
Picture taken at The Arts & Letters Club, 1920
(from left to right): F.H. Varley, A.Y. Jackson, Lawren Harris, Barker Fairley (friend of the Group), Frank Johnston, Arthur Lismer, J.E.H. MacDonald (Franklin Carmichael is missing)
The Group of Seven got its name at Harris's house and he was an unofficial 'leader' of the group. A.Y. Jackson said: "Without Harris there would have been no Group of Seven. He provided the stimulus; it was he who encouraged us always to take the bolder course, to find new trails."
The painters met often and exchanged ideas, supported, inspired, criticized each other and painted together. They believed that the only way to find and develop a Canadian style was in nature. That was the reason they traveled across the country. At the beginning they went together on sketching trips in Ontario (Algoma region, Lake Superior, Georgian Bay), then they traveled to Quebec, the Maritimes, the Rocky Mountains, British Columbia and later to the Arctic.
Although they all had the same goal (to create a Canadian art style), painted together, painted the same things, each individual had a different style. Today we call it Canadian style, but at the time of their first exhibition, which was held at the Art Gallery of Toronto (now Art Gallery of Ontario) in 1920, many didn't think so and called their paintings "barbaric" and "hot mush." But only a few years after, they became recognized as truly Canadian artists and influenced many other painters. Today we call them "a national school of landscape painting."
Soon after the first exhibition Johnston resigned (he got a job as a principal of an art school in Winnipeg) but three painters joined soon: A.J. Casson, William Holgate and LeMoine Fiztgerald. One more painter is usually considered a member of the group, Tom Thomson, because he painted with the Group and especially because he loved, knew and understood the nature very well and inspired others. He was the idol of the other painters. "He was the guide, the interpreter," said A.Y.Jackson. However, he drowned in Algonquin park tree years before the Group officially formed.
The Group had its last exhibition in 1931 at the Art Gallery of Toronto and it ceased to exist two years later, in 1933. The same year the Canadian Group of Painters were formed and Lawren S. Harris was elected first president.


[ H O M E ]